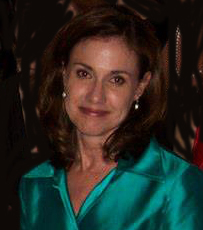 Biography
Lynn was recently honored by being selected, for the second consecutive year, as a Finalist in the Portrait Society of America's International Portrait Competition. In 2012 and 2013, her paintings each received one of the very top awards - First Honor. In a separate PSOA competition, Lynn was selected by the renowned artist Everett Raymon Kinstler to win the commission to paint a portrait of the actor James Stewart for the Players Club. Lynn was also a Finalist in the ARC International Salon and recieved an "Award of Excellence" at the Salon International in 2012. This year she served on the Faculty of the Portrait Society of America at the annual Conference held in Atlanta.
Lynn's formal art education began at Carnegie-Mellon University, Pittsburgh, PA. She continued to further her study at the School of Visual Arts, NYC, the Ridgewood Art Institute, Ridgewood, NJ, the California Art Institute, Westlake Village, CA and through various workshops and private instruction.
Lynn's professional career began in the 1980's, painting watercolor illustrations for Reader's Digest magazine. As the world of editorial illustration began to undergo changes, she segued into fine art. The inspiration for Lynn's work stems from her appreciation for the beauty of nature. She enjoys depicting a broad range of subject matter, from landscapes to figures.
Lynn has been represented by prestigious galleries across the country. A professional artist for over thirty years, her work may be found in collections throughout the United States and abroad. Lynn currently resides in the San Francisco East Bay area.
Awards & Recognition
April 2013: FINALIST & FIRST HONOR AWARD in the Portrait Society of America International Competition 2013
April 2013: Awarded the commission by Everett Raymond Kinstler to paint a portrait of actor Jimmy Stewart for The Players Club, NYC
February 2013: Invited to become an Artist Member of the California Art Club
September 2012: "Artist to Watch", Southwest Art Magazine
May 2012: FINALIST & FIRST HONOR AWARD in the Portrait Society of America's International Competition 2012
May 2012: FINALIST for the Art Renewal Center 2011-2012 International Salon
April 2012: Artist Magazine Award of Excellence, The Greenhouse Gallery Salon International 2012
April 2012: Jury's Top 50 Award, The Greenhouse Gallery Salon International 2012
March 2012: Fine Art Studio Online BoldBrush Painting Competition FAV15
March 2012: FINALIST in the RayMar Fine Art Competition
February 2012: Fine Art Studio Online BoldBrush Painting Competition FAV15
February 2007: "Artist Member", Tucson Plein Air Painters Society (TPAPS)
January 1993: Weber Merchandise Award, 13th Annual Open Jury Show, Ridgewood Art Inst
October 1992: Honorable Mention in Painting at the Mountain Art Show, Bernardsville, NJ
October 1991: The Angelini Award at the 49th Annual Open NJ Watercolor Society Exhibition

Exhibitions & Shows
November 22 - December 24, 2013: "A Treasure Trove of Small Things", Haynes Galleries, Nashville, TN
November 9 - December, 2013: 8th Great American Figurative Exhibition, Waterhouse Gallery, Santa Barbara, CA
August - October, 2013: "Women Painting Women" Group Show, Haynes Galleries, Nashville, TN
April 25 - 28, 2013: Portrait Society of America International Competition
December 6, 2012: Holiday Show, Legacy Gallery, Scottsdale, AZ
November 1, 2012: M Gallery Star-Studded Extravaganza, Hibernian Hall, Charleston, SC
October 6, 2012: Autumn Group Show, Grenning Gallery, Sag Harbor, NY
September 2012: "Petite Salon", M Gallery of Fine Art, Charleston, SC
April 2012: 3 Paintings - Juried into the Salon International, Greenhouse Gallery, TX
May 2012: Portrait Society of America International Competition
April 2011: Salon International 2011, Greenhouse Gallery, San Antonio, TX
April 2010: Invitation to Nomades Del Arte Exhibition, Southwest Gallery, Dallas, TX
December 2009: California Art Club Exhibit "Precious Gifts", Blinn House, Pasadena, CA
August 2009: Oil Painters of America, Western Regional, Howard/Mandeville Gallery, Kirkland, WA
June 2009: California Art Club Exhibit "Eternal Light", Blinn House, Pasadena, CA
April 2009: Salon International 2009, Greenhouse Gallery, San Antonio, TX
September 2008: JM Stringer Gallery, "A Season of Discovery II" Exhibition
March 2008: Nomades Del Arte, Sage Creek Gallery, NM
May 2007: Salon International 2007, Greenhouse Gallery, San Antonio, TX
December 2004: Exhibition at the Robert Butler Gallery, Danville, CA
August 2003: California Art Club Angel Island Paint-Out
June 2003: Napa Valley Museum Plein Air Bienniel Exhibit, Yountville, CA
March 1992: Invitational Benefit for the Newark Museum
October 1990: Exhibited in the New Jersey Watercolor Society Show

Key Affiliations
California Art Club (Artist Member)
California Art Institute
Oil Painters of America
Portrait Society of America